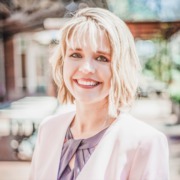 Ashley Carlson is a REALTOR® with eXp Realty and is a member of the Gusty Gulas Group, Birmingham's #1 team in homes sold. Ashley has moved all over the country, from Ohio to Arizona, and knows just how important it is to make a
house a home! Her goal in her real estate career is to help people in the community grow and make their dreams of becoming homeowners come
true!
Ashley now lives in Chelsea with her husband, two daughters, and two rescue pups! She loves working out, eating cookies, going swimming, and spending time with her family and friends. Be sure to follow her on Facebook and Instagram.