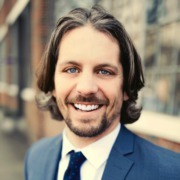 Josh Brownlee is a licensed realtor with eXp Realty and a grateful member of the Gusty Gulas Group, Birmingham's #1 team in homes sold since 2012.  Josh loves being on a team that works together in unison towards the common goal of outstanding, top-notch service and results for our clients.
Josh was born and raised in the outskirts of metro Atlanta.  He graduated from the University of Georgia with a BBA in Risk Management and Insurance.  He spent the next six years after graduation brokering commercial property and casualty insurance to clients nationwide, doing so by developing a niche focus in the Non-Emergency Medical Transport industry.  During this time, he began his real estate investing career by residing in a live-in flip.  
Following his dreams and taking a hiatus from the white-collar world, Josh spent the next six years abroad as an adventure travel videographer.  Fifty some odd countries later, he settled for a few years in Australia where he managed the door-to-door fundraising campaigns for charities including Habitat for Humanity Australia and CARE Australia.  During his time there, Josh's teams raised more than $1.4 million in ongoing monthly donations for charity.  
After returning to the United States, Josh first reignited his real estate career through fix and flip renovations and rental property investments.  Now, as a realtor, he loves to use his industry experience and knowledge for the benefit of his clients.  He and his partner, Lacey, a licensed Nurse Practitioner, reside in the Five Points South area of Birmingham with their fluffball of a black cat named Rosie.  In his spare time, Josh loves to travel, scuba dive, ski, and practice yoga.  He's passionate about helping people and looks forward to making the process of buying or selling your next home a wonderful experience.