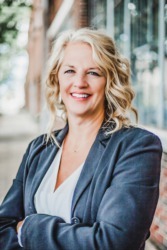 As a Licensed Realtor with eXp Realty and a member of The Gusty Gulas Group, Kim provides years of experience in teamwork, customer service, sales, and account management.
Kim grew up in East TN but moved to Alabama to go to college on a basketball scholarship at the University of Alabama-Huntsville. She graduated with a BS in Biology with a minor in Chemistry. She met her husband Dave, a Chicago native, at UAH while he was playing ice hockey for the Chargers. They continued to live in the Huntsville/Madison area until they moved to Hoover with their 3 beautiful daughters in 2019.
Customer service has been a main focus of Kim's working career. Previous years working in hotel sales and management and non-profit fundraising organizations have provided her with a strong background in developing relationships while providing confidentiality, dedication, and personalized care to all clients.
Kim's business is built on honesty, communication, integrity, and hard work. She believes it takes a strong team with the same goals to succeed in all aspects of life. Working together to find your dream home is no different. Let Kim's years of teamwork experience help you enjoy the real estate process by allowing her to be alongside you every step of the way!